My Latest Hiking Exploits
It's been a hell of a long time since I wrote something here. Not so much due to the fact that I'm a lazy bastard, (although I am still that despite my efforts to better myself), but more so that I have been in the enviable position of having so many trips ongoing that I had no time to write about them. Normally the camping and kayaking and climbing trips are so seldom and special that in between them I have plenty of time to organise the photos, write up the hijinks and scrub the soot off my Trangia kettle. Lately, I haven't even bothered emptying out the gear from my rucksack, because it seems every weekend I get to galavant around the countryside with some lucky group of friends.
The trips have changed a lot this Summer. Summer hiking for me is usually a goal in itself. The aim is to head to some beautiful, remote spot and set up a nice little tent and cook some food and stretch out on the grass to lazily enjoy the sunset, before finally retiring to bed before the mosquitos eat you alive. However, this year hiking has become a tool that gets me to a climbing spot. We head to the cliff, find a nearby spot to throw up the tents and tarps, grab a fast bite to eat and climb all day. It's been very interesting to experience how different this feels, the minutiae of the gear or intricacies of the hike cease to have so much importance and instead they just become a means to an end.
That sounds a little negative though, I found that with the added bonus of climbing, all the joys of hiking get accentuated. Previously I wolfed down whatever food I made, and it tasted incredible even when it's just dehydrated potato powder with some powdered soup and a can of tuna mixed in (my normal hiking dish, and I have received a lot of shit about it from people less frugal or concerned about pack-weight than I am).
And previously at night, I collapsed into bed, zombie-tired and so happy to be getting some sleep that I could have sung about it. After a day of climbing though, it would be paradise itself to eat dusty stones and sleep on an anthill. Exhausting, rewarding effort is the order of the day.
One amazing trip has already been written up by Toby (whom I met ages ago on a super-brief, super-dark, super-cold climbing taster on Södermalm), of the Northern light blog. I will also give that trip a write-up later as I had a lot of fun new experiences on that trip, trad-climbing with Toby as (a very patient and forgiving) guru, as well as sleeping in VBLs as a test to see how they work in Summer, and also sleeping under a very rushed MYOG tarp that I wanted to experiment with.
First I wanted to write a quick summary of a trip to Ågelsjön in Norrköping (where all the pictures above are from), with stalwart climbing companions Michi and Martin. We picked up eight people (and one dog) for this trip, all of us enthusiastic climbers, so our busy little base camp had a truly expedition atmosphere.
This trip was remarkable for a few good reasons, the then novel focus on climbing and the ridiculously fun evenings with ten good friends around a roaring campfire, but this trip was also the trip on which I had seen the most incredibly beautiful sight I have ever seen (I just got married last weekend so I better qualify that statement, it was the most beautiful sight I have ever seen not involving naked Swedish women).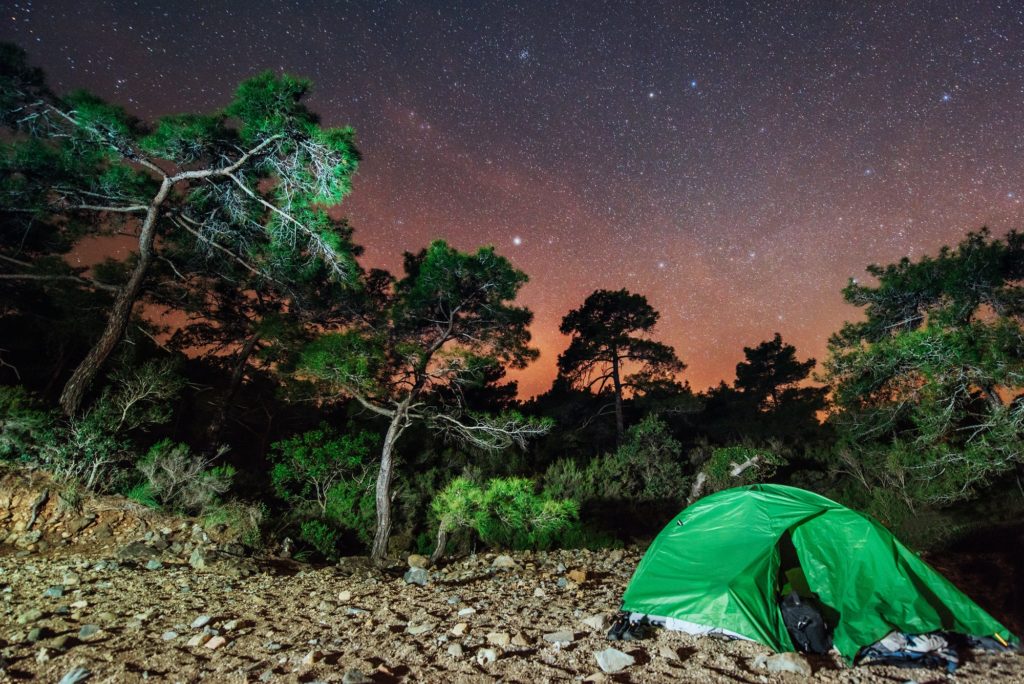 On the first night, we were exhausted, and after a quick meal, everyone raced into their tents. I was bivy sleeping under the stars, so I was last to retire. I went to the edge of the lake to brush my teeth, and as my eyes grew accustomed to the darkness I saw that the entire surface of the lake was covered in writhing wreaths of thick mist. The mist formed at the very edge of the lake and then slowly moved away from the shore, gathering speed as it went until it seemed to flow like a turbulent river of frothed milk over the lake towards the horizon. The mist was only a decimetre or so thick, and this is where it gets crazy. Bats were flying across the surface of the lake, and they would swoop down into the mist and fly through that layer, wherever they went they cut through the mist and left swirling eddies of vapor behind them, and their progress was marked out by long channels of black water that they had cleared the mist away from. These trails themselves were then flowing with the mist out to the center of the lake. Three bats dived in and out of the mist, the whole while ignoring my camera-work. Flashes, long exposures and high ISOs did nothing, I could not capture even the most remote, fleeting semblance of what I saw.
It was without a doubt the most frustrating experience I have ever had with a camera. Any kind of flash ruined the substance of the mist, and long exposures captured grainy nothingness. Hang your head in shame, Nikon D80! Time for a bigger sensor!
The lakes around Norrköping are stunningly beautiful, and they with patience and cold-resistant feet can even sometimes get a little pedicure from the local fish, who after a few minutes of cautious approach will get busy nibbling away some dead skin.
I was a little dictator when it came to fire-lighting, pressurising everyone to use a magnesium sparker with some tinder instead of the usual lighters-with-a-splash-of-petrol. It's a tad archaic, I'm sure, but I do kind of think that doing a little practice with basic fire lighting pays dividends after a while. Successfully lighting a fire with those fucking sparkers does entail organising a properly ordered pyre with the lightest tinder setting fire to the smallest little twigs, and so on to the larger and larger sticks, and learning how to set up a good little pyre like that is a skill that is worth having. Cotton-wool soaked in Vaseline does a better job, for sure, but we can't always take the easy way, can we?
Before the trip, my gear list had been gutted on the surgical table as usual, and my scalpel knows no pity. This time around I had a pack weight of under eight kilos (excluding the climbing gear). This was even including the heavy petrol-driven Omni fuel stove and a massive Trangia billy pot (so totally necessary with our large group).
It was hard to ignore that my rucksack (the Klättermusen Mjölner) was now over a quarter of my pack weight. It had to bear the fifteen kilos of climbing gear as well, but for future non-climbing trips, I think this monster will have to sit at home. A shiny new red Huckepack will be the lightweight replacement.
Years ago I spent ages tracking down a waterproof thermometer with a max/min function that had a decent temperature range. I ended up buying a Deltatrak dishwasher thermometer, which is designed for use for HACCP kitchen regulations. I figure it's as important as any piece of equipment for someone that wants to optimise their gear. It's very useful seeing what the minimum overnight temperature was when trying to figure out a good sleeping system, for example.
This time around the min was 0.0 °C, surprisingly low for Spring. It was the last trip I took my Warbonnet black mambo on so far this year, and that with the usual exped down mat and a thin cotton Haglöfs cover was perfectly comfortable during the night. Definitely on the warm side of comfortable though. Since this trip I have been using only my VBL with a silk liner, the total weight is around 250 grammes.
Like a proud father, I got to see my child making its impact on the world, as Michi had the MYOG rope-tarp I had made with him.
It's a little redder, and a little taller and wider, and so it forms a longer, thinner sausage shape when rolled up, compared to mine, and that makes it very easy to drape over a shoulder. The material is a little tougher as well, VX-21 instead of VX-07. As with most ultralight gear, it can also be used as a tarp. This is something I joked about with Michi when I gave him the tarp, but it came in use when we got a surprise hailstorm during our climbs of Valhallväggen.
The first few days were stunningly warm, but the hail was typical for the final day, freezing sleet and hail meant it was fairy agonising to climb the aggressive granite of Valhallväggen. The poor dog (a beautiful Lapponian Herder) got abused as a hand warmer in between climbs.
The cold spell was a bitch on the hands. I had planned to give trad climbing a go on a 5+ crack and rigged up a top-rope to make it a little less suicidal, but the cold conditions and my inexperience at placing protection made the 5 feel like a 7. Trad-climbing is definitely not for the faint of heart.
Since this trip, I have been back climbing at Ågelsjön twice already, but this was the first time we had such a long tour with so many people all just totally focused on climbing.
And maybe also a little focused on fishing.